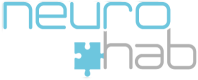 Neurohab provides several serious games that provide a personalized training in various levels. With our solutions you get a full reporting system for your performance and improvements throughout your training sessions
Our games have been developed and validated in by the scientific community throughout the years. Visit our research page to keep posted on the most recent updates of our studies.
With Neurohab you get several games and applications on one platform! NeuroHab aims to be a useful tool for patients, caregivers and therapists. Designed for day-to-day training, this platform gives you the opportunity to intervene, monitor evolution and focus on the greatest difficulties!
The NeuroHab platform development team is looking for volunteers interested in testing applications and games designed to help patients of Autism, Alzheimer's, Dementia, and others. If you believe you are a good candidate please send us an email to the address equipa@neurohab.pt.